WHITE PAPER
Connecting the Dots Across Employee Engagement, Turnover, Recruitement & Replacement
How Fostering a Culture of Long-Term Learning & Development Reduces Costs & Improves Outcomes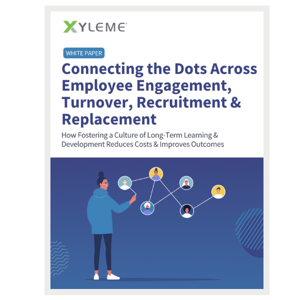 The Great Resignation and global pandemic have caused record-breaking disruption and upheaval across the modern workforce. In this white paper, we'll explore how facilitating personalized, self-service learning drives employee engagement, reduces turnover, supports recruitment, and minimizes replacement costs.
Business units with engaged workers have 23% higher profit compared with business units with unengaged workers. Additionally, teams with thriving workers see significantly lower absenteeism, turnover and accidents; they also see higher customer loyalty.
What will you learn?
This White Paper explores:
The growing importance of employee engagement
How employee engagement drives profitability
The high cost of employee turnover, recruitment & replacement
Why organizations need to prioritize reskilling & upskilling to attract—and retain—top talent
"This investment has supported our department's commitment to reduce operating costs, while also aligning with key elements of our learning strategy focused on building more interactive and engaging experiences for learners across our organization."