EBOOK
Content Personalization at Scale

For years, organizations researched, explored and discussed transforming content to a more learner-centric, multi-modal, personalized environment. But the actual transition has been arduously slow.

Learners expect the technology and content associated with learning to behave the way technology and information behave in their everyday lives. They want personalization, context and relevance, and they want it immediately.

"Fewer than 10% of companies in Brandon Hall Group's Learning Strategy Survey state that their learning environment "takes advantage of multiple technologies to create engaging, personalized learning experiences."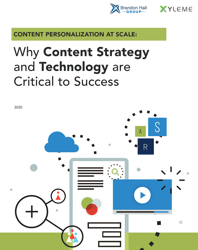 What will you learn?
This ebook explores why a one-size-fits-all approach to content is unsustainable in today's business environment, and how organizations can leverage technology to increase three key areas for learning:
Access: organizations must expand delivery channels to ensure content can be distributed virtually anywhere
Speed: content strategy must reflect learners' expectations of personalized content experience
Relevance: Content must be relevant to the learners. They need to know what is in it if for them and how it relates to their roles
"We saw a significant increase in completed learning courses after rolling out Xyleme. Our learner engagement — a key KPI for our organization — improved, and the built-in analytics provided the data we needed to prove it."​
"We simply didn't have enough FTEs to do what was being asked — let alone on a rushed timeline. We couldn't have done it without Xyleme."
"This investment has supported our department's commitment to reduce operating costs, while also aligning with key elements of our learning strategy focused on building more interactive and engaging experiences for learners across our organization."